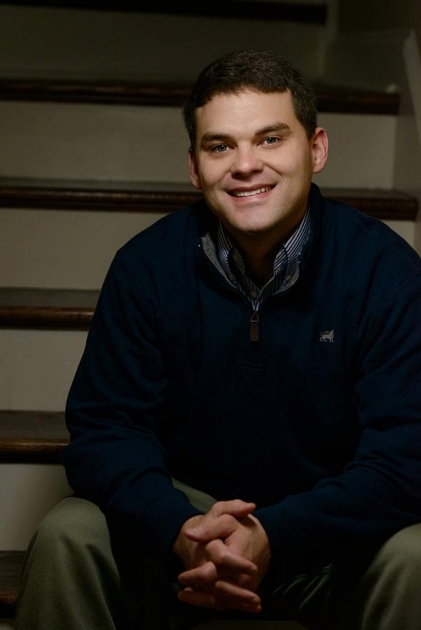 Professional & Family Portrait Photography Services in AL and MS at Chad Riley Photography
Thank you for visiting my website, I hope you find all of this information useful in your search for a Mobile, Alabama professional wedding photographer. Continue looking around for additional information on the photographer, galleries from past shoots, contact information and more. If you have questions about any of Chad Riley's photography services, feel free to send an email to chad@chadrileyphoto.com!
ABOUT CHAD
Originally from central Mississippi, I've been a resident of Mobile, AL since June of 2008. I received a BA in philosophy from the University of Mississippi (Ole Miss) in 2006. I then moved to Alabama to marry my bride. I started taking pictures in 2007 when I purchased my first DSLR with $2000 leftover scholarship money. I've since been fortunate to travel and learn from some of the greatest photographers in the world.
Before photography I served as the Youth Pastor with the good people of Ashland Place UMC and led worship at Dauphin Way UMC. I also worked as a graphic artist building graphics and websites for different companies and agencies. I shot my first wedding on April 10, 2010 when some friends more or less made me take pictures at their wedding.  I thought it was unsure of the idea since I had sold my first camera and at that time only owned a $100 camera. Knowing the responsibility  I had been given,  I sold my keyboard and and invest $5,000 in cameras and lens.  This was the minimum that I thought was necessary to shoot a wedding.
Over 100 weddings and more than a 1000 assignments later, I've now been a full-time photographer shooting around 40 weddings a year since July of 2012.  My style of images have a commercial, lifestyle, and photojournalist feel.  I love clean images and candids that tell a story.  I love capturing the small meaningful moments that just happen on the wedding day.  Or as one bride said about her images, "They were everything we ever (and never knew we) wanted!"  I've since had my images seen and published everywhere.  I'm always amazed where friends say they've seen my images.  A few publications are:  Mobile Bay Magazine, Access Magazine, Forbes, TheKnot, WeddingWire, and Alabama Magazine.  My biggest surprise in 2013 was when I got the email saying I received a Nappie Award for Best Wedding Photographer.  Once I found out what a Nappie Award was and how people campaign for votes, I was amazed and humbled.  I didn't even get to vote for myself!
Outside of weddings, I've been able to document different events, kids, and families.  I've also taken portraits for organizations like The Alabama Policy Institute, The Drug Education Council, and a lot of political campaigns for elected officials like Sandy Stimpson, Judge York, Sheriff Sam Cochran.
In my free time (if you know me you may be laughing right now) I like to work on personal projects that help others, like Help Portrait (help-portrait.com).  Our first "help portrait" was in 2011.  The goal was to focus Christmas on relationships and not the amount of stuff we receive as gifts.  In 2011 were able to provide over 300 free family portraits at Taylor Park in Mobile.  In 2013, we took portraits of the families at the Dumas Wesley Community Center.
2014 has been one of the busiest and craziest years, in a good way.  In December 2013, I closed on a old abandoned building on Upham Street, in midtown.  I've since been renovating the building as a studio space, and I finally moved in at the beginning of March.  This space has allowed me to do more creative portraiture and commercial work.  I've also used the space to reinvented how I hand make my leather wedding albums.  Leather hides may be one of the more interesting things I've ever purchased!